Rafael Jewelry Silver Medallion Eilat Stone Earrings
Hand-crafted in Jerusalem. Simple, but lovely medallion earrings set with Eilat Stone surrounded by a rope design. Diameter: 3/4 inch | 1.8 cm
Item # : ES010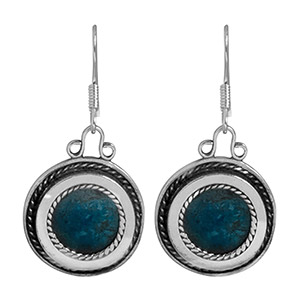 Stock Review
Jewelry Type:Earrings - Out Of Stock
Rafael Jewelry Sterling Silver Medallion Eilat Stone Earrings

Simple and sleek large round medallion earrings are lovely for those who like significant, but uncomplicated jewelry. The Eilat Stone is the shining center of these earrings which are surrounded by a rope design.

Please note: This jewelry is hand-crafted and made to order. Therefore, this piece will take an additional 10-14 days.

Diameter: 3/4 inch | 1.8 cm

Eilat Stone is considered the national stone of Israel. It is characterized by stunning its blue-green color. The stone received its name from Israel's southernmost city, Eilat. The Eilat Stone was originally excavated from the ancient copper mines of King Solomon in the area of Eilat and therefore, is also knows as Solomon Stone.
Review this product
Please log into your account to Add Your Comment.