Carved Olive Wooden Box of Noah's Ark
Olive Wood Box. Noah's Ark. Small. Square. 2 x 2 x 1.25 inches / 5 x 5 x 3.25 cm
Item # : BX10116S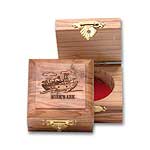 Stock Review
Noah's Ark
Pill / Jewelry Box
Small olive wood box engraved with a sweet image of Noah's Ark and the animals he saved.

Made of Holy Land Olive Wood.
Length: 2 inches / 5 cm
Width: 2 inches / 5 cm
Height: 1.25 inches / 3.25 cm
Noah's Ark is described in the biblical Book of Genesis and is the vessel built by Noah at God's command to save Noah, his family, and the world's animals, when G-d sends a Flood to destroy the Earth. Noah is instructed to build an Ark and to retreat to it with his family and male and female representatives of all animals. The flood waters rise, and those inside the Ark survive as the rest of creation is extinguished. At the height of the flood "God remembered Noah", the waters abate, and dry land reappears. Noah and the animals leave the Ark, Noah offers a sacrifice, and G-d vows never again to destroy the Earth in this manner.
Review this product
Please log into your account to Add Your Comment.