Olive Wood Cross with 3 Holy Land Elements
Olive Wood Cross. Vials of Holy Soil, Jordan River Water, and Galilee Olive Oil. 4.75 inches / 12 cm
Item # : CR007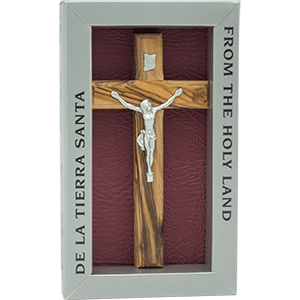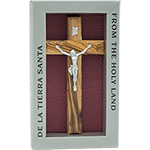 Stock Review
Size:Large - In Stock
Size:Medium - In Stock
Olive Wood Cross - With soil from the Holy Land, water from the Jordan River and pure olive oil.

Made of Holy Land Olive Wood.

Height - 4.75 inches / 12 cm
Height - 6.5 inches / 16 cm

Includes Certificate of Origin.

The Jordan River has long been a source of life for those who live in the Galilee. It is also considered to be one of the world's most sacred rivers.
The Jordan River was the site of Jesus' baptism and where John the Baptist bore record of Jesus as the Son of God and Lamb of God, John 1:28. "Then Jesus came from Galilee to the Jordan to be baptized by John." Matthew 3:13

Since this time, Jordan River water has been used in baptismal rites all over the religious world.
Review this product
Please log into your account to Add Your Comment.