Olive Wood Cross
Olive Wood Cross. Two Sizes.
Item # : CR010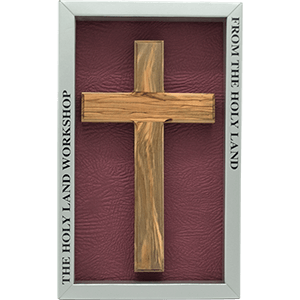 Stock Review
Size:Large - In Stock
Size:Medium - In Stock
Olive Wood Cross

Made of Holy Land Olive Wood.

Cross available in 2 heights:

Medium: 4 3/4 inches / 12 cm
Large: 6 inches / 15.5 cm

Includes Certificate of Origin.

Olive Wood is a beautiful material that is mentioned time and again in the Bible. Out of great Biblical reverence, olive trees in Israel are not permitted to be cut down. All items are made from pruned branches which keeps the trees healthy.

~~~~~

Christian symbols are moving declarations of faith in the ministry of Jesus Christ. The cross has come to be the most well know symbol of Christianity. According to all four gospels, Jesus was brought to the "Place of a Skull" and crucified with two thieves. To most Christians, Jesus willingly sacrificed himself as an act of perfect obedience, a sacrifice of love which pleased God.
Review this product
Please log into your account to Add Your Comment.