Olive Wood Engraved Jewelry Box
Olive Wood Box. Western Wall. Large. Rectangle. 2.5 x 2 x 1.5 inches / 5.5 x 5 x 3.75 cm
Item # : BX10118L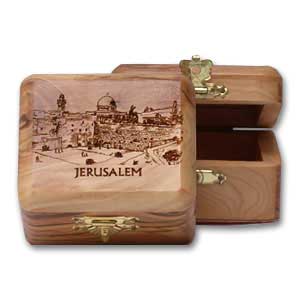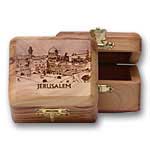 Stock Review
Shape:Rectangle - In Stock
Western Wall Pill / Jewelry Box
Large olive wood box engraved with image the Western Wall in the Old City of Jerusalem

Made of Holy Land Olive Wood.

Length: 2.5 Inches / 5.5 cm
Width: 2 Inches / 5 cm
Height: 1.5 Inches / 3.75 cm
Jerusalem has been sacred to the Jews since King David proclaimed it his capital in the 10th century BCE. Jerusalem was the site of Solomon's Temple and the Second Temple. It is mentioned in the Bible 632 times.

Today, the Western Wall, also known as the Wailing Wall, is a remnant of the wall surrounding the Second Temple. It is a Jewish holy site second only to the Holy of Holies on the Temple Mount itself.

Christianity reveres Jerusalem not only for its Old Testament history but also for its significance in the life of Jesus. According to the New Testament, Jesus was brought to Jerusalem soon after his birth and later in his life cleansed the Second Temple. The site of Jesus' Last Supper is located on Mount Zion and the Crucifixion took place a short distance from the Old City Walls.

Review this product
Please log into your account to Add Your Comment.