Olive Wood Ten Commandments, English
The Ten Commandments. Olive Wood. Two Sizes. English.
Item # : DC024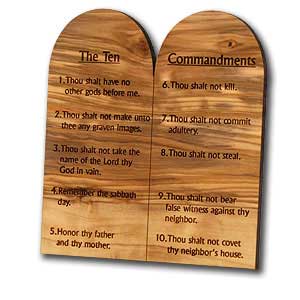 Stock Review
Language:English Size:Medium - In Stock
Language:English Size:Small - In Stock
Olive Wood Ten Commandments

Made of Holy Land Olive Wood

Ten Commandments are engraved in English.

Available in two sizes:
Small 2.5 x 2.5 inches / 6.5 x 6.5 cm
Medium 4.5 x 4.75 inches / 11.5 x 12 cm

The Ten Commandments is the ultimate list of G-d's moral imperatives for Man. According to Biblical tradition, they were given by G-d to Moses on Mount Sinai in the form of two stone tablets. The Ten Commandments are important and feature prominently in both Judaism and Christianity.


Review this product
Please log into your account to Add Your Comment.