Olive Wood with Clear Tube Mezuzah
Beautiful hand-turned olive wood mezuzah with Clear tube to hold the scroll. Comes with non-kosher scroll already encased in the tube. Height 7 1/4 inches | 18.5 cm
Item # : MZ900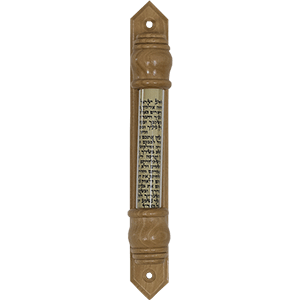 Stock Review
Color:Brown Design:Torah Height:6 inches Size:Large - In Stock
Olive Wood and Glass Tube Mezuzah

Beautiful Mezuzah case made from hand-turned olive wood. The non-kosher scroll is sealed inside the glass tube. Has two generous holes for screws for ready attachement. This mezuzah is one of the best selling designs in Israel and will surely look beautiful in your home.
Review this product
Please log into your account to Add Your Comment.