Hairy Pink Flax for the Garden
Packet of seeds to grow Hairy Pink Flax in your garden which has been used for centuries to make linen thread, cordage, and twine in the Holy Land.
Item # : HE042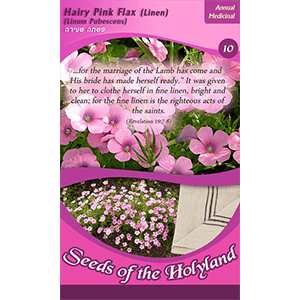 Stock Review
Elements:Seeds - In Stock
Hairy Pink Flax Seeds of the Holy Land for the Garden
Each purchase of Seeds from the Holy Land supports local farmers working the Land of Israel.

Linum pubescens is an annual small bush like plant, with beautiful small pink flowers in spring. It reaches a height of about 20 cm.

Flowering Period: February - May

Linen yarn is spun from the long fibers found just under the bark in the multi-layer stem of the flax plant. In order to retrieve the fibers from the plant, the woody stem and the inner pith, which holds the fibers together in a clump, must be rotted away. The cellulose fiber from the stem is spinnable and is used in the production of linen thread, cordage, and twine. There are many Biblical references to flax and to linen. The seed produces linseed oil. The Holy Vestments, in which the Israelite Priests served in the Temple of God, were woven from fine bleached-white linen.

How to Grow:

The best time for sowing flax is the last two weeks in March. Rake the area and add fertilizer. Drip the seed from your hand into the line and then go over the line with the back of the rake. Gently pat the soil over the seeds till they are no longer showing.

Medicinal Uses:

The seeds are used for food and medicine; for the treatment of stomach pain, kidney stones, indigestion, stomach worms, boils, cough, hair loss and impotence. The seeds can be ground and drank or roasted. Ground flax powder can be spread on wounds to pull out infection.

There are at least 98 different references for linen and flax in the Bible.

"So Joseph bought some linen cloth, took down the body, wrapped it in the linen, and placed it in a tomb cut out of rock. Then he rolled a stone against the entrance of the tomb." Mark 15:46

"Taking Jesus' body, the two of them wrapped it, with the spices, in strips of linen. This was in accordance with Jewish burial customs." John 19:40
Review this product
Please log into your account to Add Your Comment.