Masik Pomegranate Olive Oil Soap
100% natural. Contains Dead Sea minerals and olive oil from the Golan Heights and enriched with pomegranate. Handmade with love and care. Size: 115 g | 4 oz
Item # : CS0028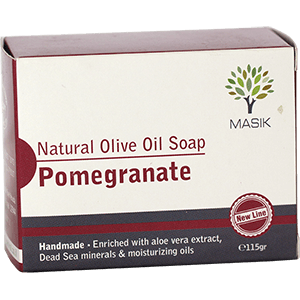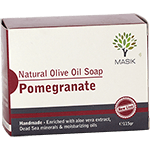 Stock Review
Formula:All Skin Types - In Stock
Masik Pomegranat Olive Oil Soap
100% natural

Contains Dead Sea minerals and oil from the Golan Heights.
Handmade with love and care…
Features
Natural soap with olive oil. Pomegranate has antibacterial features, rich in vitamins and minerals, cleaning and nourishing the skin. Suitable for intimate washing for inflammations and fungus.
Ingredients
Olive oil, palm oil, almond oil, coconut oil, avocado oil, magnesium oxide, magnesium chloride, aloe vera extract, Dead Sea minerals, pomegranate peel powder, pomegranate oil, bergamot, Palma Rosa, buckthorn.
How to use
Foam the "Masik" Soap, apply to wet skin and rinse.
Can be used to wash hair.
Suitable for all types of skin and for daily use.
Recommended to apply the "Masik" Body Lotion after using the Mud Soap.
Review this product
Please log into your account to Add Your Comment.