Masik Pomegranate Olive Oil Soap
Olive Oil Pomegranate Soap. 110 grams
Item # : CS0028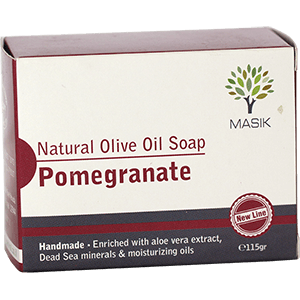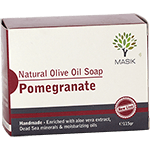 Pomegranate Natural Soap by Masik

Israel Olive Harvest Soap

Soap for facial skin treatment and for cleaning, disinfecting and nourishment. Recommended use for daily acne treatment and contains sea buckthorn oil for rehabilitation of the skin and is nourishing with unique fatty acids.

Ingredients: olive oil, coconut oil, palm oil, avacado butter, castor oil, shea butter, pomegranate juice, pomegranate seed oil, tea tree oil, bergamot oil



Masik soaps are manufactured from pure olive oil, harvested in the Golan Heights orchards. The unique qualities of natural olive oil are enhanced with herbal oils and butters containing valuable vitamins and minerals, endowing the soap with healthy and pleasurable properties. The soap also contains essential oils with a gentle and relaxing natural fragrance. Masik soap production is made by a cold process that retains the natural healthy properties of the ingredients, providing you with all the goodness of the Land.


Review this product
Please log into your account to Add Your Comment.