EDEM Camel Milk Hand Cream
EDEM Natural Cosmetics. Hand Cream made from Camel Milk. 4 fl oz | 120 ml
Item # : CS508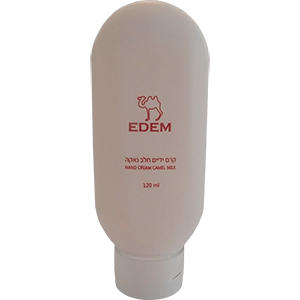 Stock Review
Formula:All Skin Types Size:120 ml / 4 fl. oz. - Out Of Stock
EDEM Camel Milk Hand Cream

Natural Cosmetics with camel milk as the #1 ingredient.

The secret of this hand cream's effectiveness is came milk. It is said that Cleopatra bathed in camel milk to keep her skin young and soft. Camel milk has healing properties and this hand cream was developed as a result of comprehensive scientific studies confirming the curative properties of camel milk.
The camel milk in the cream aids in the balance of the skin´s cells and other components, moisturizes, softens, and protects skin from damaging elements in our environment.

4 fl oz | 120 ml
Review this product
Please log into your account to Add Your Comment.