MediCamel Milcamel Calming Cream
Camel Milk Calming Cream. MediCamel Calming Cream with 60% Camel Milk. Natural Cosmetics. 1.7 fl.oz. | 50 ml
Item # : CS501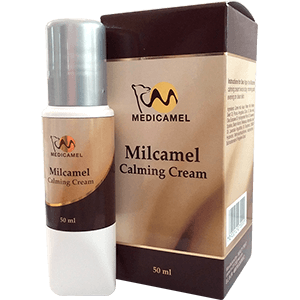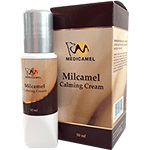 Stock Review
Formula:Special Ailment Size:50 ml / 1.7 fl.oz. - Out Of Stock
MediCamel Calming Cream

Natural Cosmetics from Camel Milk

Contains 60% Camel Milk

The Milcamel calming cream is beneficial for sores, injuries and bruises. It acts as a disinfectant, anti-bacterial, antiseptic and quickly and efficiently treats skin problems such as irritation, rashes, eczema, stings, sores, cuts and psoriasis. the cream is also an excellent replacement for iodine found in home first aid kits. It is a 100% natural product based on camel milk and herbs. It is a unique mix of vital vitamins, essential oils, plant extracts, nutritional oils and of course the camel milk. The ingredients of the cream help close the wounded area quickly. Beneficial results are quickly observed.

"Camel milk has no allergens but of extreme importance, it contains a large number of "protective proteins", including very small and potent Nano body-sized which penetrate thick tissue. The protective proteins have powerful antibacterial, antiviral and antifungal properties. Some "protective proteins" are responsible for tissue repair." CAMEL MILK COSMECEUTICALS FOR CAM (comparative alternative medicine) Journal of Medicine and Medical Research
1.7 fl.oz. | 50 ml
Review this product
Please log into your account to Add Your Comment.