Nano Bible Necklace New Testament Silver Trinity Cross
Nano Bible New Testament chip - the world's tiniest Bible in a 925 sterling silver Trinity cross. Comes with a silver chain, certificate of authenticity and an information brochure. Size: 3.3 x 1.8 cm | 1 1/4 x 3/4 inches
Item # : NB002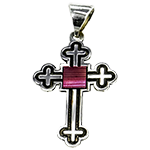 Stock Review
Jewelry Type:Necklace - In Stock
Nano Bible Necklace New Testament Trinity Cross

The Nano Bible is the World's Smallest Bible created with cutting-edge Nano Technology cultivated in the Holy Land, merging the spirit and technology of Israel. When you own a Nano Bible Jewelry piece you can keep your faith close to your heart. It is also a wonderful way to give the gift of faith to your friends and families or buy special gifts for your organization or congregation members.

This piece has the entire New Testament engraved on the 1/4 inch x 1/4 inch surface and mounted in a 925 sterling silver Trinity Cross with a silver chain. This cross is called such becuase the buds at the end of each arm of the cross represent the Trinity: The Father, The Son, The Holy Spirit. Each piece comes with a certificate of authenticity and an informational brochure. Pendant size: Size: 3.3 x 1.8 cm | 1 1/4 x 3/4 inches

The Jerusalem Nano Bible is made from silicon 'wafer', a thin slice of semiconductor material, derived from sand, typically used in precision printing of circuit boards for electronics. The Jerusalem Nano Bible is not an electronic device or connected to the internet. We re-purposed the printing technology to reproduce the bible onto a tiny 5×5 mm wafer surface. With a special program, the Nano Scientist translates the bible text file in whole, into an actual image or photograph, which will ultimately be projected onto the smallest of surfaces. The text is covered with a protective layer made from 500 nm Sin and Silicon OxiNitride. The letters are nano engraved in 450 nm thick aluminum.
Review this product
Please log into your account to Add Your Comment.