My Holy Land Pocket Book
Pocket Book, My Holy Land. 111 pages of Holy Land sites with facts, stories and photographs.
Item # : BK013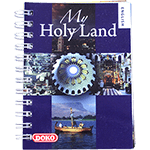 Stock Review
Language:English - In Stock
My Holy Land Pocket Book

With the pocket guide to the Holy Land you can walk in the streets with Yeshua and explore His culture and people. You will discover the Land of the Bible, a journey that could take a lifetime, in just an hour.
Complete with professional photographs and illustrations that capture the history of each location and its significance at the present time. It is interspersed with geographical facts and inspiring stories from the Holy Scriptures. Its alphabetical format (From A to Z) makes it easy to find the exact site you seek. And you can take it where ever you roam for a little Holy Land inspiration as it fits your pocket.
Mesurments: 4 1/4 x 3 inches | 11 cm x 8 cm

Length: 111 pages
Review this product
Please log into your account to Add Your Comment.