Knit Black Kippa with Decoration
Knit kippah with a black base and a decorated edge. The design will vary. Quality kippah for any occasion or every day wearing. Approximate diameter: 7 inches | 18 cm
Item # : KP2029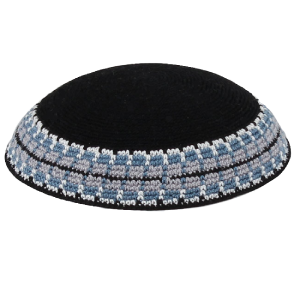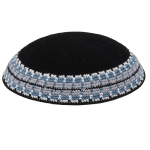 Stock Review
Base Color:Black Design Color: - In Stock
Knit Kippah, Black with Decoration

Traditional kippah made from quality cotton knit. The kippah has black base with a decorated edge border.

KIPPAS WILL VARY IN DESIGN! You are ordering a kippah with a black base, the actual pattern on the kippah will vary. Picture is for illustration purposes only.
Approximate diameter: 7 inches | 18 cm

The kippah, also known as a yarmulke or skullcap, is a small round hat. It reminds the wearer that he is earthbound and that there is a greater authority above him.
Review this product
Please log into your account to Add Your Comment.