Torah Scroll. Velvet Cover, Small.
Torah Scroll. Small. Height 6.25 inches / 16 cm
Item # : TS003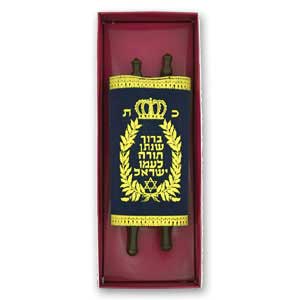 Stock Review
Cover Color:Blue - In Stock
Cover Color:Purple - Out Of Stock
Small Torah Scroll
Small scroll with plastic poles and a printed velvet cover. Inscribed with "Baruch Hamakom" prayer in Hebrew: "Baruch Shenatan Torah Le'Amo Israel" ("Blessed is the One Who gave the Torah to His people Israel").

High quality print with clear Hebrew lettering.

Height - 6.25 inches / 16 cm

You can find more information about Torah Scroll in our Learning Center.
Review this product
Please log into your account to Add Your Comment.