Torah Scroll with Velvet Cover, Medium
Torah Scroll. Medium. 13.5 inches / 34.5 cm. Available in a variety of colors.
Item # : TS002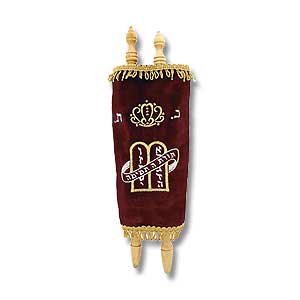 Stock Review
Cover Color:Burgundy - In Stock
Cover Color:Green - Out Of Stock
Cover Color:Navy Blue - Out Of Stock
Cover Color:Royal Blue - In Stock
Medium Torah Scroll

Holy Land olive wood handles with a velvet cover embroidered with the Ten Commandments and Psalms 19:8 in Hebrew: "Torat Adonai Temima" ("The precepts of the LORD are right"). The embroidered covers are made by disabled citizens of Israel.

High quality print with clear Hebrew lettering.

Height - 13.5 inches / 34.5 cm

See color menu for the various cover colors available.
Would you like to know more about Torah Scroll? Click here.



Review this product
Please log into your account to Add Your Comment.