Large Torah Scroll with a Velvet Cover
Torah Scroll. Blue Cover. Large.
Item # : TS009L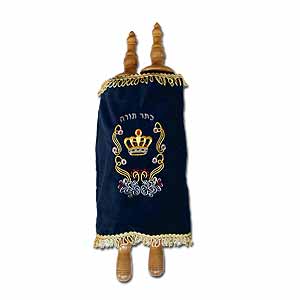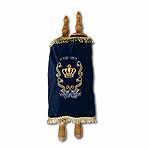 Stock Review
Cover Color:Navy Blue - Out Of Stock
Torah Scroll
Torah Scroll in an embroidered Navy Blue velvet cover. The cover is embroidered with the Hebrew words " Torah Crown" on top of a royal crown with surrounding flowers.
High quality print with clear Hebrew lettering.
Hebrew is written "Ktiv Menukad," meaning it is written with nikkud - the dotting system to denote vowel sounds and punctuation. Example of Hebrew with nikkud: בְּרֵאשִׁית בָּרָא אֱלֹהִים אֵת הַשָּׁמַיִם וְאֵת הָאָרֶץ (Genesis 1:1)
Height: 19 inches / 48.5 cm
Review this product
Please log into your account to Add Your Comment.