Torah Scroll with a Velvet Cover, Deluxe Extra Large
Torah Scroll. Blue Cover. Deluxe Extra Large. 23 x 7 inches / 58 x 17.75 cm
Item # : TS007XL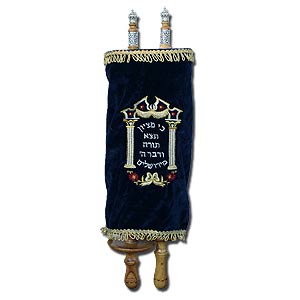 Stock Review
Cover Color:Navy Blue - In Stock
Cover Color:Burgundy - In Stock
Extra-Large Deluxe Torah Scroll with Accessories
Extra-Large Deluxe Torah Scroll with decorated wooden handles and an embroidered velvet cover. The wooden handles are decorated with silver plated adornments and silver caps on their upper tips. The Navy Blue velvet cover is embroidered with the Hebrew words "Ki Me'Zion Tetze Torah, u'Dvar Adonai Me'Yerushalayim" ("for out of Zion shall go forth the Law and the word of the LORD from Jerusalem").
High quality print with clear Hebrew lettering.
Hebrew is written "Ktiv Menukad," meaning it is written with nikkud - the dotting system to denote vowel sounds and punctuation. Example of Hebrew with nikkud: בְּרֵאשִׁית בָּרָא אֱלֹהִים אֵת הַשָּׁמַיִם וְאֵת הָאָרֶץ (Genesis 1:1)
23 x 7 inches / 58 x 17.75 cm
Accessories included:
A decorative metal breastplate -
Two lions of Judah holding the Ten Commandments are embossed on the breastplate.
A decorated Torah Pointer
- For pointing the Scriptures while reading.
Review this product
Please log into your account to Add Your Comment.