Torah Scroll with a Velvet Cover and Accessories, Deluxe Medium
Torah Scroll. Deluxe Medium. Available in Burgundy. Accessories Included. Height 13 inches / 33 cm
Item # : TS007M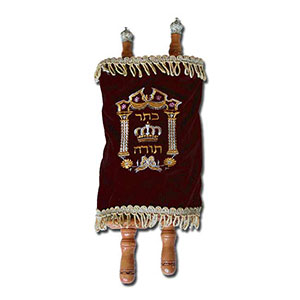 Stock Review
Cover Color:Burgundy - In Stock
Cover Color:Navy Blue - In Stock
Decorated Medium Torah Scroll with Breastplate and Torah Pointer
Medium Torah Scroll with decorated wooden handles and an embroidered velvet cover. The wooden handles are decorated with a delicate painted design and silver caps on their upper tips. The velvet cover is embroidered with the Hebrew word "Crown" on top of a royal crown and the Hebrew word "Torah" underneath.

High quality print with clear Hebrew lettering.

Height - 13 inches / 33 cm

See color menu for the various cover colors available.

Accessories included:

A decorative metal breastplate - Two lions of Judah holding the Ten Commandments are embossed on the breastplate.

A decorated Torah Pointer - For pointing the Scriptures while reading.
Would you like to learn more about Torah Scroll?
Click here
.
Review this product
Please log into your account to Add Your Comment.