Seven Species Prayer Shawl
Seven Species Tallit. Available in three sizes.
Item # : TL007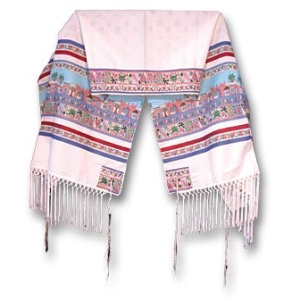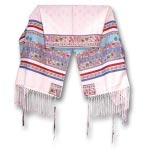 Seven Species Tallit (Prayer Shawl)

Wool and Polyester blend Tallit.
This Holy Land Prayer Shawl is decorated with images of the Seven Species, the plants mentioned in the Bible as significant to the Land of Israel.

When the Lord brings the children of Israel into the Land, he tells them: "For the Lord your G-d is bringing you into a good land, a land of brooks of water, of fountains and springs, that flow out of valley and hills; a land of WHEAT and BARLEY, of VINES and FIG trees and POMEGRANATES, a land of OLIVE OIL and HONEY." (Deuteronomy 8:8).

Available in three sizes:
Small - 24 x 71 inches / 60 x 180 cm
Large - 42 x 71 inches / 106 x 180 cm
X-Large - 55 x 71 inches / 140 x 180 cm

* Tallit are hand cut and the sizes can vary +/- 2 cm.

Learn more about Tallit and it's uses in our Learning Center.
Review this product
Please log into your account to Add Your Comment.