"Carmel" Pure Woven Wool Tallit
"Carmel" 100% Pure Woven Wool Tallit. Available in several color combinations and sizes.
Item # : TL018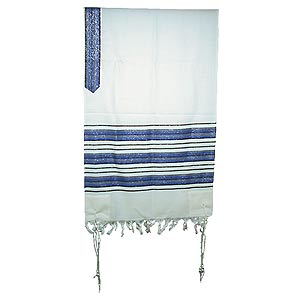 Carmel Tallit (Prayer Shawl)

Traditionally designed 100% pure woven wool tallit. A beautifully crafted prayer shawl to be used at a Bat/Bar Mitzvah, wedding or other special life-cycle event.

Stripes available in the following color combination:
White & Black
White, Black & Blue
White & Gold
White & Silver

Available in three sizes:
Small - 24" x 72"
Medium - 32" x 72"
X-Large - 55" x 72"
Learn more about Tallit in our Learning Center.




Review this product
Please log into your account to Add Your Comment.