B'nai Or Prayer Shawl
B'nai Or Tallit. 100% Pure Wool. Available in several color combinations and sizes.
Item # : TL006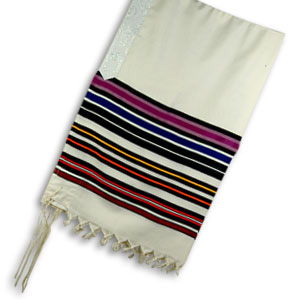 B'nai Or Tallit (Prayer Shawl)

Beautifully colored 100% Pure Wool Prayer Shawl. "B'Nay Or" means "Children of Light" in Hebrew. This Tallit is also called "Joseph's Robe" as its design was inspired by the Biblical description of the Robe given to Joseph by Jacob, his father.
Stripes available in the following color options:
Rainbow colored
Light Blue
Blue and Purple

Available in four sizes:
Small - 24 x 71 inches / 60 x 180 cm
Medium - 36 x 71 inches / 91 x 180 cm
Large - 42 x 71 inches / 106 x 180 cm
X-Large - 55 x 71 inches / 140 x 180 cm


You can find more about Tallit and its uses here.
Review this product
Please log into your account to Add Your Comment.