Women's Tallit. Queen Esther.
Queen Esther Tallit. Prayer Shawl for Women. Inspired by the Book of Esther.
Item # : TL021S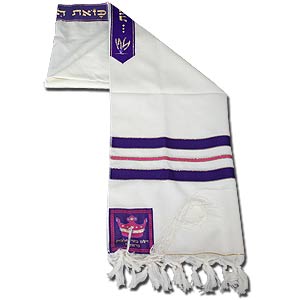 Stock Review
Color:Purple/Gold Size:Small - In Stock
Esther Prayer Shawl
Prayer Shawl for women featuring scriptures from the Book of Esther.

The fabric of this prayer shawl of Esther is a blend of polyester & wool with purple, pink and gold stripes. The four corners feature Esther's regal symbols: The royal crown and a majestic robe with golden wand.

The following scriptures from the Book of Esther appear on either side and on the neck band:
"Thou art come to the Kingdom..." (Esther 4:14).
"And the king held out to Esther the golden scepter" (Esther 5:2)
"So that he set the royal crown on her head, and made her queen" (Esther 2:17)

Small size - 24 x 67 inches / 60 x 170 cm
If you want to learn more about Tallit click here.


Review this product
Please log into your account to Add Your Comment.