Prayer Shawl. Chai Tallit.
Chai Tallit. "Alive" Prayer Shawl. Inspired by the traditional Hebrew Toast "L'Chaim" (To Life!)
Item # : TL016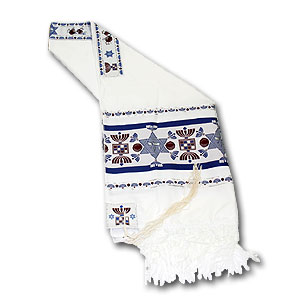 "Chai" Tallit (Prayer Shawl)
1

00% Polyester.

This tallit is decorated with the word "Chai" inside a Star of David (See explanation about the meaning of the 'Chai' symbol below). This prayer shawl features a large variety of tradiioanlly Judaic symbols such as the Breastplate, Menorah and pomegranates all symbolize abundance and light.

Available in several color combinations:

White & Gold
Purple & Silver
Blue & Burgundy
Navy Blue & Grey

24 x 71 inches / 60 x 180 cm

* Please note that the Navy Blue and Purple Tallits are available in small size only.

You can learn more about Tallit and Chai in our Learning Center and Glossary.

​
Review this product
Please log into your account to Add Your Comment.