Silver and Gold Plated Jumbo Yemenite Shofar 35-39 inches / 90-100 cm
Silver Plated Shofar. Jumbo Size (#60). 35-39 inches / 90-100 cm. Available in a variety of designs. This item may be custom ordered.
Item # : SF013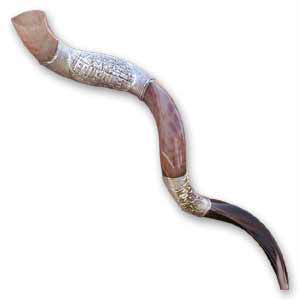 Silver Shofar

Polished Yemenite Shofar decorated with Sterling Silver & Gold plating in beautifully Biblically inspired designs.

This silver shofar is Jumbo size (#60) and measures 35-39
inches / 90-100 cm along the twist*.
S

ilver plating available in the following designs:
Grafted In
Grapevine
Holy Covenant
Jerusalem
Lion of Judah
Menorah
Star of David
Pomegranate
Olives
If you wish purchasing a custom made shofar with a larger silver plate, please contact us.
*Please note that we cannot guarantee an exact length, shape or thickness of the shofars. Each one is unique and requires ample practice to learn how to blow.
The length of the silver plating will also vary (Generally around 9" on the longer side). The shofars pictured here are for demonstration purposes only and have about 15" long plating which is no longer available.
*Due to strict import regulations regarding animal products we are unable to ship shofars to most countries in Asia. Please contact us for more information.
Review this product
Please log into your account to Add Your Comment.