Silver and Gold Plated Ram Horn Shofar
Silver Plated Shofar. Ram Horn. Medium (C30). 11-13 inches / 30-35 cm
Item # : SF014M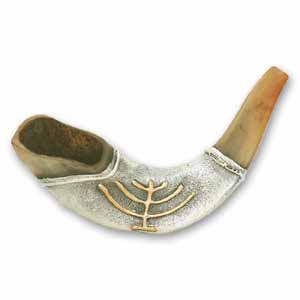 Stock Review
Design:Menorah and Star of David - In Stock
Ram Horn Shofar

Polished ram horn shofar plated with sterling silver featuring gold plated highlight design.
Menorah and Star of David design.
This silver rams horn shofar is a beautiful investment in your spiritual growth.

Medium size (C30) - 11-13 inches / 30-35 cm measured on the outside surface.

Taken from rams after the natural shedding occurs annually.

*Please note that colors and textures may vary due to the fact that this is a natural product.

*Due to strict import regulations regarding animal products we are unable to ship shofars to most countries in Asia. Please contact us for more information mail@jesusboat.com.

According to tradition the Star of David was engraved on the shield of King David. Appropriated as a symbol of the Jewish people within the last two hundred years, today the Star of David appears in the center of the flag of Israel and is the most widely recognized symbol of Modern Judaism.


If you want to learn more about Shofar, click here.
Review this product
Please log into your account to Add Your Comment.