Polished Large Ram Horn Shofar Size 14-16 inches / 35-40 cm
Kosher Shofar. Large Ram Horn. Polished or Half-Polished. Size 14-16 inches / 35-40 cm
Item # : SF007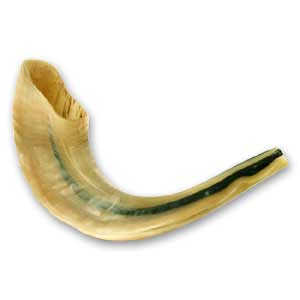 Stock Review
Finish:Polished - In Stock
Finish:Half Polished - In Stock
Ram Horn Shofar

Large size 14-16
inches / 35-40 cm measured using the outside surface.
Available in two finishes:


Polished
Half Polished/Half Natural

Notes about buying shofars online: The size range listed in inches is approximate as the more accurate sizes are in centimeters. The colors and textures will vary from the shofar on this page as all shofars and natural and uniquely made.
Taken from rams after the natural shedding occurs annually.

*Due to strict import regulations regarding animal products we are unable to ship shofars to most countries in Asia. Please contact us for more information mail@jesusboat.com.
Review this product
Please log into your account to Add Your Comment.