Large Jericho Ram Horn Shofar (A45)
Kosher Shofar. Large Jericho Ram Horn. Polished or Half Polished. Size 17-19 inches / 45-50cm
Item # : SF011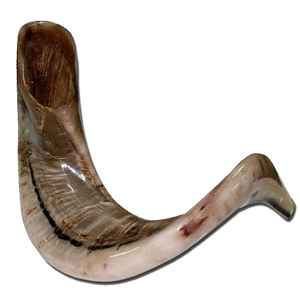 Jericho Shofar

Large size (A45) 17-19 inches / 45-50 cm measured using the outside surface. Shake the walls with the trumpet of the Lord just as Joshua did at Jericho with the gorgeous shofar. Buy a Jericho shofar for anyone serious about their love of spreading the Word of God.



Taken from rams after the natural shedding occurs annually.



This shofar is designed in the shape of the shofars used by Joshua for bringing down the walls of Jericho (Joshua 6:2-5).

Available in two finishes:
Polished
Half Polished/Half Natural

Shofar Notes: Size range in inches is approximate! Shofars' accurate size is measured in centimeters.

Colors and textures may vary due to the fact that this is a natural product.
*Due to strict import regulations regarding animal products we are unable to ship shofars to most countries in Asia. Please contact us for more information mail@jesusboat.com.

If you want to learn more about Shofar and its uses click here.
Review this product
Please log into your account to Add Your Comment.