Extra Large Jericho Ram Horn Shofar (A50)
100% Kosher X-Large Jericho Ram Horn Shofar. Size Range 19-21 Inches / 50-55 cm.
Item # : SF018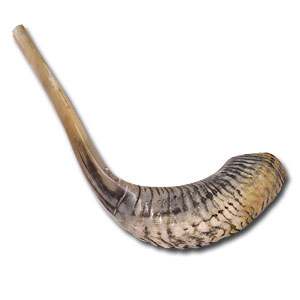 Jericho Shofar

X-Large Size 19-21 / 50-55 cm (A50). Measured using the outside surface.
* Please note size range in inches is approximate! Shofars' accurate size is measured in centimeters.

This shofar is spectacular and beautiful. When Joshua brought down the walls of Jericho (Joshua 6:2-5) tradition says this is the type of shofar he used. So if you are looking to buy a traditional shofar, this would be the perfect one for you.

All shofars at JesusBoat.com are taken from rams after the natural shedding occurs annually. These a beautiful natural instruments on which the colors and textures will vary from the illustrated shofar.
Available in Half Polished/ Half Natural finish only.


*Due to strict import regulations regarding animal products we are unable to ship shofars to most countries in Asia. Please contact us for more information mail@jesusboat.com.


Find out more about Shofar.

Review this product
Please log into your account to Add Your Comment.