Nickel Plated Breastplate Mezuzah
Breastplate Mezuzah. Nickel Plated. 6 inches / 15.25 cm. Available in four designs.
Item # : MZ052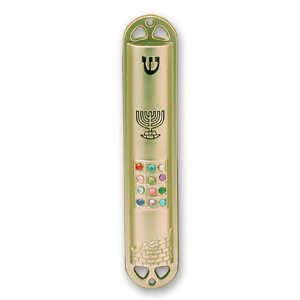 Mezuzah

Nickel plated Mezuzah decorated with Breastplate and the word "G-d" in Hebrew ("El Shaddai" - also: "Keep the doors of Israel safe").

This mezuzah has soft rubber backing for easy insertion of a parchment.

Height: 6 inches / 15.25 cm

Designs: Crown, Menorah, Star of David and Shaddai

* Parchment sold separately.

The Breastplate was worn by the High Priest in the times of the Holy Temple. It was decorated with 12 stones symbolizing the Twelve Tribes of Israel.

Tribe & Stone: Reuben – Ruby
Shimon – Peridot or Topaz
Levi – Emerald
Judah – Garnet
Issachar – Sapphire
Zebulun – Diamond
Dan – Opal
Gad – Amethyst
Naphtali – Agate
Asher – Aquamarine
Joseph – Onyx
Benjamin – Jasper



Review this product
Please log into your account to Add Your Comment.