Silver Plated Breastplate Car Mezuzah
Breastplate Car Mezuzah. Silver Plated. 4 designs.
Item # : CM002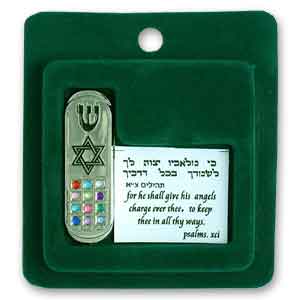 Stock Review
Design:Shadai - Out Of Stock
Design:Crown - Out Of Stock
Design:Menorah - In Stock
Design:Star of David - In Stock
Car Mezuzah
Silver plated decorated with the Breastplate (worn by the High Priest with 12 stones representing the Twelve Tribes of Israel), Menorah and the first letter of the word "G-d" in Hebrew ("El Shaddai" - also: "Keep the doors of Israel safe."). Enclosed in gift box with Travellers Prayer (Psalms. xci).

Height - 2 Inches / 5 cm

Adorned with four different decorations to choose from: Name of G-d Shaddai, Crown, Menorah (out of stock), and Star of David.

The Breastplate or Hoshen was worn by the High Priest in the times of the Holy Temple. It had 12 stones symbolizing the Twelve Tribes of Israel.

Tribe & Stone: Reuben – Ruby
Shimon – Peridot or Topaz
Levi – Emerald
Judah – Garnet
Issachar – Sapphire
Zebulun – Diamond
Dan – Opal
Gad – Amethyst
Naphtali – Agate
Asher – Aquamarine
Joseph – Onyx
Benjamin – Jasper

The Mezuzah is a symbol that can be seen on the right-hand doorpost in every Jewish household or car. It acknowledges God's sovereignty over the home. Within is a hand-inscribed parchment bearing the "Shema" prayer - Deuteronomy 6: "Hear O Israel: The Lord our God is one Lord...And thou shalt write them (the words of God) upon the posts of thy house, and on thy gates."

Having a mezuzah on the car door, touching it and then touching the lips, reminds us to keep the word of God on our lips as we enter and leave the car.
Review this product
Please log into your account to Add Your Comment.