Tribes of Israel Menorah, 2 sizes/4 metal options
Small 7-branch Menorah decorated around its base with the symbols of the Tribes of Israel. Available in 2 heights and in several metal options.
Item # : MN004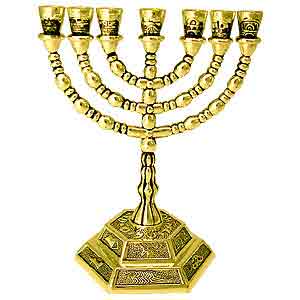 Twelve Tribes Menorah

Small seven-branch Menorah decorated with the emblems of the Twelve Tribes of Israel around its octagonal base. The tribes of Israel are descended from the 12 sons of Jacob, each getting their own segment of the Kingdom of Israel and each represented by a symbol. This lovely little menorah is small enough to fit anywhere, but makes a bold statement.

Heights available:
5 inches | 13 cm
8 inches | 20 cm

Choose from three metal choices: silver, pewter, copper, gold

If you want to learn more about the Menorah and its history and uses.
Review this product
Please log into your account to Add Your Comment.