The Temple Menorah
Stunning menorah replicated from the biblical Temple Menorah, perfect for the sanctuary. This 7-branch menorah is available in several metal options to suit all environments.
Item # : MN015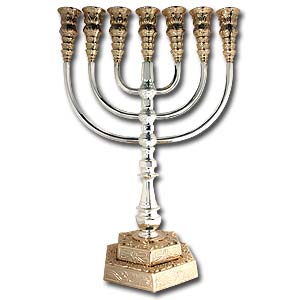 Temple Menorah
Solid casted seven branch Temple Menorah replica. This Menorah is especially solid, heavy and well balanced. If you are looking for a menorah for a worship space such as a sanctuary or chapel, this would be an excellent selection. In the home it would also be stunning, a prominent feature in the room.

This menorah is available in these metal options: Silver Plated, Pewter Plated, Silver & 14K Gold Plated*, 14K Gold plated on a copper base

* Silver and Gold Plated Menorah is available in two sizes :
Small: 14 inches | 35.6 cm ; Large: 17 inches | 43 cm

You can find more useful information about Menorah here.
Review this product
Please log into your account to Add Your Comment.