12 Tribes Brass with White Enamel Menorah
Traditionally shaped solid brass Menorah decorated with symbols of the Twelve Tribes of Israel on the branches and stem highlighted in white enamel. Height available: 8 1/2 inches | 22 cm
Item # : MN009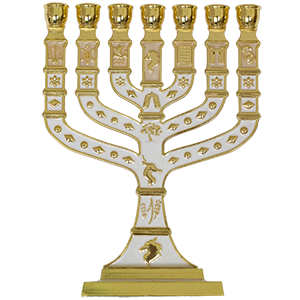 Stock Review
Height:9 inches Material:Brass - Out Of Stock
12 Tribes of Israel Brass & White Enamel Menorah
This solid brass, seven-branch menorah is a wonderful way to display the Judaic roots of your faith. The stem and each of the branches of the menorah is embossed with symbols of the Twelve Tribes of Israel and beautifully decorated with white enamel. The Twelve Tribes of Israel are descended from the 12 sons of the patriarch Jacob.

Height: 8 1/2 inch | 22 cm
Much like the Star of David,
The Menorah
, a seven branch candelabrum, has also come to represent the Jewish people throughout history. It symbolizes the idea that the nation of Israel is to be a light to all nations by setting an example: "Not by Might, nor by Power, but by my Spirit" (Zechariah 4:1-6). Learn more about Menorah and it's uses here.
Review this product
Please log into your account to Add Your Comment.