Brass Menorah, Small
Brass Menorah. Seven Branches. Height 4 inches / 10.25 cm
Item # : MN006T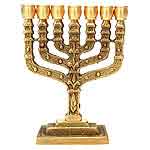 Stock Review
Height:4 inches Material:Brass - Out Of Stock
Seven Branch Menorah

Made of brass

Height - 4 inches / 10.25 cm


Perhaps more than any other symbol, the Menorah has come to represent the Jewish people. Today the symbol of the Modern state of Israel, it once graced the Tabernacle as the children of Israel traveled through Sinai. It stood as a great monument in both the First and Second Temples.
Review this product
Please log into your account to Add Your Comment.