Messianic Grafted In Brass Menorah
A lovely medium sized Messianic Menorah that will fit any space. Made in classic solid brass decorated with the Grafted In symbol on the leg. Height: 8 1/2 Inches / 22 cm
Item # : MN011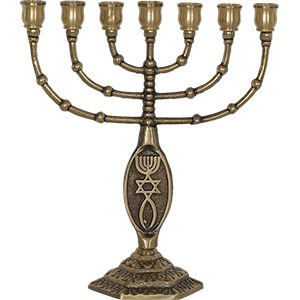 Stock Review
Height:8 1/2 inches Material:Brass - Out Of Stock
Messianic Seal Menorah
Brass Messianic Menorah decorated with the Grafted In symbol on its leg. The menorah is the oldest symbol in Judaic traditiona dating back from the Tabernacle in the Wilderness. This beautiful menorah is the perfect size for any room. It is a wonderful way to honor the menorahs from the Temple times.

Height: 8 1/2 inches | 22 cm

The Grafted In Symbol is one of the earliest known Christian symbols. This combined Menorah, Star of David and Fish, represent the unity and common roots of Judaism and Christianity. It was first discovered in a small assembly room on Mount Zion; 3 rd Century A.D. In Romans, Paul speaks about the natural olive tree of Israel and the grafting in of gentile believers into the olive tree.
Perhaps more than any other symbol, the Menorah, a seven branch candelabrum, has come to represent the Jewish people. It symbolizes the idea that the nation of Israel is to be a light for all nations through setting an example: "Not by Might, nor by Power, but by my Spirit" (Zechariah 4:1-6).
The Menorah once graced the Tabernacle as the children of Israel had traveled through the Sinai dessert. It stood as a great monument in both the First and Second Temples.

Instructions for the construction of the Menorah can be found in Exodus 25:31-40.
Today, the Menorah is the symbol of the modern state of Israel. Menorahs are still fulfilling the same function today as they have in the Biblical era. They can be seen in synagogues and households; bringing enlightenment and enhancing the spiritual connection of mankind with G-d.
Review this product
Please log into your account to Add Your Comment.