Electronic Gift Card.
E-Gift Card. JesusBoat.com Gift Cards Online.
Item # : GC010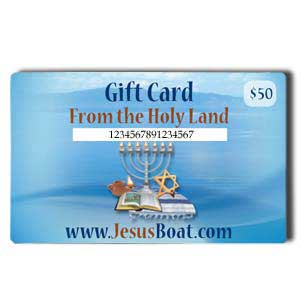 Stock Review
Value:US$25 - In Stock
Value:US$50 - In Stock
Value:US$100 - In Stock
Electronic Gift Cards from JesusBoat.com*
JesusBoat.com E-Gift cards are identical to the JesusBoat.com gift cards you have come to know and love.
The only difference is: They arrive by E-mail and they are only a click away!
JesusBoat.com E-Gift cards are ideal for all occasions – birthdays, anniversaries, bar/bat mitzvahs, Christmas, house warming…. the list goes on and on. There are items for everyone – men, women, teens, kids, Christians and Messianic. It is THE universal gift!

Benefits of the JesusBoat.com E-Gift card:

You save 10% off the face value of each card!
When purchasing an E-Gift card, you save 10% off the value of the card. For example, a $25 E-Gift card costs $22.50 to purchase but can be redeemed for the full $25 value.

No shipping fees included! Your gift is only a click-away.
You buy an E-Gift card with your credit card from our website. We email the gift card to you or we can email it to the recipient of the gift card with your personal dedication.

Your recipients will surely like what you buy them.
They get to pick their gift themselves! A great solution when you just can't find the right gift or you are short of time.
A thoughtful Gift from the Holy Land
Your recipient is free to choose from any of the high-quality faith-related gifts JesusBoat.com offers. There are no restrictions! They can choose from more than 2500 different inspirational gifts.
Imagine the fun your friends and family will have browsing through all the wonderful gifts from the Holy Land. With the JesusBoat.com E-Gift card your recipient will get all the variety, reliability and support that you have come to know with JesusBoat.com. Your recipient will receive the merchandise of their choice promptly and accurately.
It is our wish that by visiting the JesusBoat.com website your recipient will energize their connection and support to Israel and her people.
Redeeming an E-Gift card is just as easy:
To redeem their JesusBoat.com E-Gift card, your recipients will shop on JesusBoat.com and pay with the gift card.
For more information about purchasing, delivering or redeeming a gift card
click here
.
*
A note to wholesale customers: Wholesale discounts are not applicable to this product. Wholesale customers may enjoy this special offer as is.
Review this product
Please log into your account to Add Your Comment.