Tabgha Sea of Galilee Olive Wood Keychain
Olive Wood key ring engraved with the mosaic of the Miracle of the Fishes and Loaves at Tabgha. Diameter:
Item # : KY013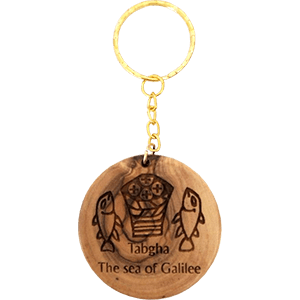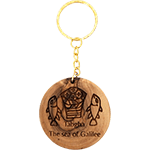 Stock Review
Tabgha Sea of Galilee Olive Wood Keychain

This keychain is created from a solid disk of 100% Olive Wood from the Holy Land.

On the northwest shore of the Sea of Galilee stands a church commemorating the location of the Miracle of the Multiplication of the Loaves and Fishes. It is called the Church of the Multiplication and is located in Tabgha, or ancient Heptapegon. On the floor of the church are beautiful mosaics, one of which if of the loaves and the fish.

The olive tree could easily be seen as a symbol of the Holy Land, certainly more than any other place. It has been called "The Peace Tree" in reference to Noah and the dove, "The Tree of Righteousness" referring to Yeshua's prayers in the Garden of Gethsemane and "The Sacred Tree" for the numerous references to using its fruit in holy anointing. The wood from the olive tree has beautiful grain patterns. It is a very hard wood and any products made from olive wood will last and last.
Review this product
Please log into your account to Add Your Comment.