Emblem of Israel Keychain
Metal keyring with the Emblem of Israel. Blue and white enamel.
Item # : KY0601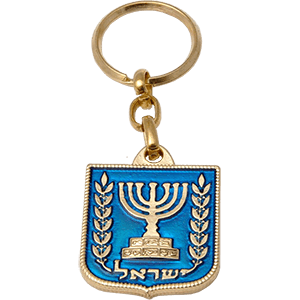 Stock Review
Color:Colored Enamel Shape:Menorah - Out Of Stock
Emblem of Israel Keychain

This keyring boldly displays the national emblem of the State of Israel. The emblem includes a seven branched-candelabrum, called Menorah, flanked by two olive branches. The word "Israel" is written in Hebrew below the menorah. The menorah is the oldest symbol of the Jewish faith and pays homage to the Temple.
Review this product
Please log into your account to Add Your Comment.