Virgin Mary Keychain
Metal Keyring with image of the Virgin Mary
Item # : KY115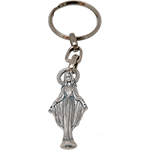 Stock Review
Color:Pewter Shape:Octagonal - Out Of Stock
Virgin Mary Keychain

Beautiful metal keychain with the Virgin Mary.

This is how the birth of Jesus the Messiah came about: His mother Mary was pledged to be married to Joseph, but before they came together, she was found to be pregnant through the Holy Spirit. Matthew 2:1-2.
Review this product
Please log into your account to Add Your Comment.