Flag of Jerusalem with Hebrew
Celebrate the unified holy city by displaying this Jerusalem Flag. Over the seal of Jerusalem is the city's name in Hebrew. Available in two sizes.
Item # : FL003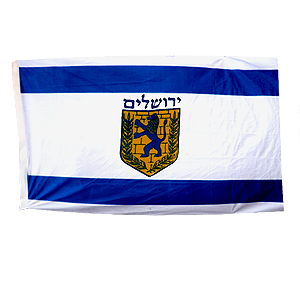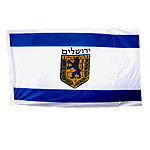 Stock Review
Dimensions:2 ft x 2.6 ft - Out Of Stock
Dimensions:2.6 ft x 3.6 ft - Out Of Stock
Jerusalem Flag in Hebrew
Celebrate the unified Holy City of Jerusalem! This flag was designed after the Six Day War when Israel defeated her foes and reunified the city. On the center of the flag is the Seal of Jerusalem with the mighty Lion of Judah in front of the Western Wall. Over the seal is the name of the city in Hebrew, just as it is on display in Jerusalem. The seal is set on a field of white with two blue stripes mimicking the Israeli flag, indicating that Jerusalem is the eternal capital of Israel. The flag is print on polyester and can be displayed outdoors on a flagpole or hung inside on a wall.

Sizes available:
2 x 2 1/2 ft (24 x 30 inches) | 60 x 80 cm
2 1/2 x 3 1/2 ft (30 x 42 inches) | 80 x 110 cm


The Flag of Jerusalem is based on the flag of Israel. It features two horizontal blue stripes reminiscent of the tallit, or Jewish prayer shawl. In the center are Jerusalem's coat of arms, which consists of a shield with the lion of Judah superimposed on a stylized background representing the kotel, flanked on either side with olive branches. The word יְרוּשָׁלַיִם (i.e. Yerushalayim, Hebrew for "Jerusalem") appears above the shield. A vertical variant is sometimes used during ceremonial functions.
The flag was adopted in 1949 following a contest held by the municipal government of Jerusalem, which was established by Israel (in the western part of the city). It became the flag of a united Jerusalem following the Six Day War in 1967.
Review this product
Please log into your account to Add Your Comment.