Memory Game. Birds of Israel.
Birds of Israel Memory Game. Free Bird Index Inside!
Item # : TG136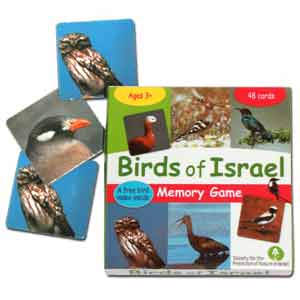 Stock Review
Birds of Israel Memory Game

Educational memory game for stretching those brain mucsles and learning about bird species in Israel.

The memory matching game includes 24 pears of cards (48 cards total).
A free bird index is included with all the names of the birds on the cards.


Five hundred million birds migrate through Israel's skies each year. In light of this fact, it is easy to understand why Israel has become a center for the study of bird migration.


Proceeds from this purchase will be donated to the Society for the Protection of Nature in Israel (SPNI). SPNI operates the Israel Ornithological Center (IOC) and the International Center for the Study of Bird Migration (ICSBM) which are dedicated to the protection of bird species.

Review this product
Please log into your account to Add Your Comment.