John 3:16: Jesus and Nicodemus in Jerusalem Children's Book
John 3:16: Jesus and Nicodemus in Jerusalem Children's Book, soft cover, by Rev. Jim Reimann
Item # : BK166JO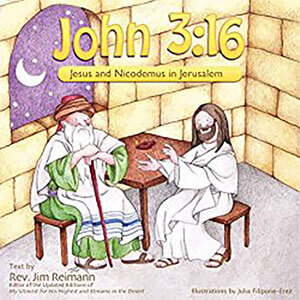 Stock Review
Language:English - In Stock
John 3:16: Jesus and Nicodemus in Jerusalem Children's Book
Written by Rev. Jim Reimann
Color illustrations by Julia Filipone-Erez

Published and Printed in Israel

This soft cover illustrated book is targeted at children aged 3-9. Based on John 3:1-16, this book tells the story in charming rhyme about Jesus' encounter with a man named Nicodemus. Through this book your children will learn just what Nicodemus did, that God wants all people to discover the need for spiritual rebirth.

Jim Reimann has been an ordained minister and teacher for over 30 years. He leads pilgrims to the Holy Land at least twice each year for more than a decade. His experience, knowledge and faith make his stories Biblically correct and historically accurate.
Click here for Kindle Edition
Review this product
Please log into your account to Add Your Comment.