Small Jesus Boat Wood Model
Small Jesus Boat Wood Model
Item # : TG118S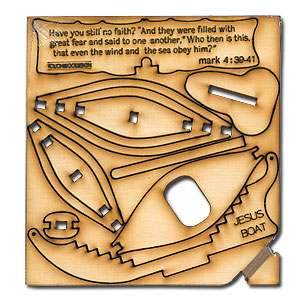 Stock Review
Small Jesus Boat Wood Model
Made in Jerusalem, Israel
Wood model of the Jesus Boat comes in a flat package with percisionly laser-cut pieces made with presision. The final 3D model is very easily assembled without glue or nails. The wood can the stained, painted or just left in its lovely natural state.
The product is made from environmentally friendly materials and is made and packaged with the help from at-risk youth and youth with special needs from "Susan's House" in Jerusalem. Susan's House is a project with encourages youth with disadvantages to find their place in socirty through art, employment and personal initiative.
Review this product
Please log into your account to Add Your Comment.