"In the Footsteps of Jesus" Family Card Game
Card Game. "In the Footsteps of Jesus". Instructions on box.
Item # : TG058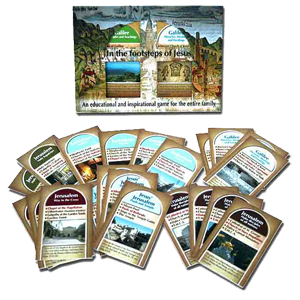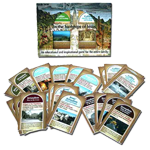 Stock Review
"In the Footsteps of Jesus" Family Card Game

An educational game for the entire family.

"In the Footsteps of Jesus" is designed to enable young and old to walk with Jesus through the Holy Land, following Him from birth, boyhood and baptism through the temptations, teachings and transfiguration to His death on the Cross, resurrection and ascention to Heaven. Familiar Biblical stories come alive as you encounter 60 settings and sites from the life of Christ and the Apostles. Deepen your understanding of Scripture while exploring the Holy Land from Bethlehem, Jerusalem and the Judean Wilderness in the south to the Jordan River in the east; Through Nazareth, Cana and Capernaum next to north eastern Sea of Galilee and the Dead Sea in the south eastern border.

Ages: 4-94
Number of players: 2-4

Content:
15 sets of cards, each set consists of 4 cards (total: 60 cards).

Object of the game:
Collect as many sets of cards a you can (4 of a kind). The winner is the player who collects the most sets.

* Full rules are on the back of the inside contents.

Additional activities:
You can enrich your understanding and learn more about each site in the game by also reading the New Testament text indicated.
The sets follow the chronological order of Jesus' life and ministry. At the end of the game, try to arrange the sets according to this order.
"In the Footsteps of Jesus" is an excellent souvenir from the Holy Land and a meaningful gift for Christmas, confirmation, birthdays or any special occasion.
Review this product
Please log into your account to Add Your Comment.