"Noah's Ark" Magnetic Dominos
Magnetic Domino Game. Noah's Ark. Ages 3+
Item # : TG097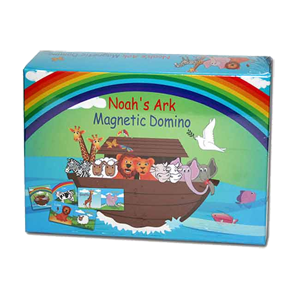 Noah's Ark Magnetic Domino

An educational magnetic domino game featuring the animals in Noah's Ark. Animals names are written in English which can facilitate learning of animal names.

Object of the game:
Getting rid of all Domino pieces in player's hand by matching.

Rules of the game:
Each Player is handed five dominoes. The remaining dominoes become the draw pile. One player starts by placing a domino piece in the center. Players try to match their domino pieces to one end of the first piece. If a player does not have a matching domino, he should draw one from the pile until he is able to find a match.

Winner:
The player who matches all the pieces he has and has none left.

Suitable for ages 3+.
Review this product
Please log into your account to Add Your Comment.