Israel Flag Car Scarf
Israel Flag on a scarf to display in the window of your car. The scarf is held up with suction cups. Show the Blue and White every where you go.
Item # : FL008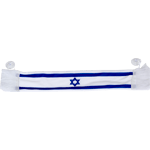 Stock Review
Israel Flag Car Scarf

The perfect item for the tried-and-true Israel supporter. This is a scarf, much like Israel National Football Club supporters wear, that you can hang in your car. It is designed to look like the Israel flag and is held to the inside of your window with suction cups. It is a super fun way to show you love Israel!
Review this product
Please log into your account to Add Your Comment.