Israel Celebra Al Mesias (Audio CD)
Israel Celebra Al Mesias CD - 13 Canciones mesiánicas en español y en hebreo grabadas en Tierra Santa - 13 Messianic songs in Spanish and hebrew recorded in the Holy Land
Item # : CD080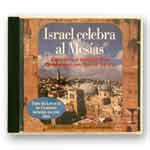 Stock Review
Language:Spanish and Hebrew - In Stock
CD Israel celebra al Mesias
Messianic songs in Spanish and hebrew recorded in the Holy Land.

Canciones mesianicas Grabadas en Tierra Santa

Includes:
1. Como hace 2.000 anos (as a thousand years)
2. Nadie te ama como yo
3. Alzaos Puertas (seu she arim)
4. Tierra Prometida ( The promise land )
5. Orad por la paz de jerusalen (pray for the peace of jerusalem)
6. Quiero alabarte
7. Vision pastoral
8. A ti levantare mis ojos ( Esa einai)
9. Santo (Kadosh)
10. orad al senor, oh sion (praise your God, oh Sion)
11. Alegrate Hija de Sion (Roni V'Simji Bat Sion)
12. Yo quiero mas de ti
13 Por Sion (Le Ma'an Tzion)

Montserrat Franco, Claudio Waiss, Montserrat Franco e Ilan Tal, Jonattan Settel, Marcos Witt,
Montserrat Franco y el Coro Katal Israel, Jaime Murrell
Review this product
Please log into your account to Add Your Comment.