Messianic Scripture Songs from Israel Vol. 2 (Audio CD)
Messianic Scripture Songs from Israel Vol. 2 CD - 13 tracks of songs in English and Hebrew.
Item # : CD014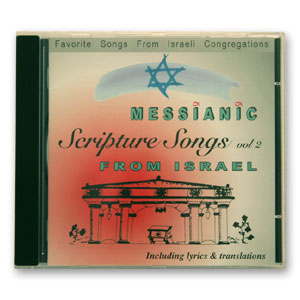 Stock Review
Language:English & Hebrew - In Stock
CD Messianic Scripture Songs From Israel Volume 2

Scripture inspired Messianic music preformed in English and Hebrew by Jonathan Settle, Avner and Rachel Boskey, David Loden, Elana Watson, and many others.

Lyrics and translations included!

1. O Lord God Of Israel
2. Aye Eloheihem
3. On The Hills of Samaria
4. Cry Out And Shout
5. Upduyey Adonai Yashuvun
6. The Shepherd
7. How Lovely On The Mountains
8. This Is The Generation
9. Dodi Li
10. Kos Yeshu´ot
11. Let Not My Enemies
12. A Fountain Of Gardens
13. Look Upon The City
Review this product
Please log into your account to Add Your Comment.